Hi everyone!
Long time no see!
Since we last met, I have moved 1700 miles away, missed BEA, and barely managed to finish this week's reading.
Oh, I also wrote my entire post for this week and then Blogger lost the entire thing except for one gif.
Thanks, Blogger.
I'm going to try to piece it back together (in WORD this time, and then cut and paste), but I'm rushing now because I'm expecting my movers to show up soon, so this will probably not be my best post ever.
Oh well.
Happy Harry Potter Day!
So, to sum up this week: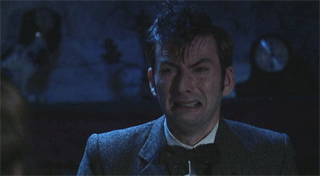 Dobby freaking dies.
DIES.
WTF.
This is quite possibly one of the saddest deaths in the series except maybe for Hedwig, who reminds me of my cat, or Sirius, who was Harry's last chance for a parent.
All Dobby wanted was to help Harry Potter and be free, which is pretty much what everybody wants, and he dies for it, which just sends a terrible message to all the other house elves out there.
I do have to say that I really respect Harry's decision to manually dig Dobby's grave, and the implicit acknowledgment that magic can be impersonal and even inhuman.
Dobby's purpose in life was manual labor, and it is only fitting that somebody should do such work for him.
For another WTF moment, Luna is captured by the Death Eaters?

Whaaaat?!

That is the worst, if only because if given the chance, Luna would totally sit down and politely listen to Voldemort tell his tale and then through one off-the-cuff phrase, would make him see inside himself and become an actual good person.

But no, she's just thrown in a dark basement with a rather creepy old man and we never even get to hear her story.

That is the poopy.

At least the Three save her so that she can continue to spread the word about Crumple-Horned Snorkacks and generally be awesome.

I don't blame Xenophilius at all for what he did to Harry, et al., to try and save her.

When he shrieks,

I must save Luna.

I cannot lose Luna

, my heart just breaks for this little, eccentric man who has already lost his wife and fears he will lose his only child as well.

It's only right that he would do anything to get her back, and I'm just glad that Hermione is brilliant enough to get them out of there (though isn't it unlikely that they'd be able to Apparate out of his house what with common magical protection? But shh, that's not the point).
Speaking of Malfoy Manor, let's talk about how interesting Draco's character is in this section.
Last time we saw him, he was lowering his wand rather than murdering Dumbledore, though it's hard to know if this was him changing his mind or just cowardice.
Earlier in that book, Harry hit him with some powerful Dark magic, so it's pretty safe to assume that no matter what, his feelings towards Harry haven't changed at all.
However, when given the opportunity to turn Harry over to the Dark Lord and earn back his family's respect and honor, Draco waffles.
The choice between power and humanity is not as easy as Draco one thought it was, nor is Voldemort as great as his father always said.
Draco's struggle is very likely the thing that saves Harry, who he seems to see suddenly as a classmate, not an enemy.
I love the complexity underlying this seemingly simple character, who I never really thought about until the sixth movie came out and we saw that he had real feelings.
Since this post is all about characters and not so much about events, I'm going to talk about Fleur.
She's a pretty minor character in this book, but I love how much she has matured.
She is efficient and helpful, and not at all obnoxious, wanting to protect rather than reach for glory despite dangers, which is how we first met her.
The change in her character started the moment that she saw Bill's face and decided to marry him anyway, and I'm glad that the change held true for her.
It is disappointing though that she has simply turned into a housewife, with no other apparent way to define herself, a lot like Mrs. Weasley.
A quick note about the invasion of Gringotts: I find these scenes to be a little hard to believe.
There are way too many moving parts for Harry to keep track of and it's pretty unlikely that they would have even made it into the building, with or without Griphook.
I do really enjoy it though, especially at the end when the dragon blazes an exit for them.
The mass destruction of old and revered wizarding establishments in this book is really powerful, showing the cost of fighting back and also of being stuck in the past.
Who knows, maybe during reconstruction, the goblins of Gringotts will get some calculators.
One can only hope.
Only one more week!!