So, here's the problem with this lack chunk of
Half-Blood Prince
being so long. Actually, two problems. One is that I've been crazy busy with school and was only able to finish it by resorting to the audiobook, which I did not want to do with my favorite book of the series. The other problem is that there's all sorts of lead-up but then also the answers so if I talk about the lead-up, it's like DUH we find out about that. Oh well, I'm doing it anyway. Happy Harry Potter Day!
LOLS. But before we get ahead of ourselves, my random notes!
So Fred and George were waiting in Hogsmeade to give Ron his birthday gift and that is SO FREAKING SWEET. Teasing him is all a ruse - they're really just a couple of teddy bears. Also, the whole family could have done this but only F&G were there. They're family-oriented, those two.
But of course Ron doesn't get his gift; instead he is poisoned and hospitalized. Connecting the attack to Katie's, Hermione notes,
"that makes the person behind this even more dangerous in a way, because they don't seem to care how many people they finish off before they actually reach their victims"
(403). BINGO. Of course, later we find out that Dumbly knew who it was all along and DIDN'T DO ANYTHING. WTF, guys. Hogwarts continues to be the scariest place ever since the administration just won't protect the kids. Sure, they put up some enchantments and whatnot, but if stuff gets through....oh well, you're on your own. Not okay.
LUNA COMMENTATING.
"And Harry Potter's now having an argument with his keeper... I don't think that'll help him find the Snitch, but maybe it's a clever ruse"
(414). Oh, and
Then Cadwallader scored again, making things level, but Luna did not seem to have noticed; she appeared singularly uninteresting in such mundane things as the score
(415). ENOUGH SAID. I love it.
Harry totally fails to get the memory from Slughorn, mostly because he doesn't actually try, and then Dumbly does that whole disappointed adult thing and it's like a kick in the gut. Well played, Dumbly, well played. But he continues to tell Harry about stuff and Harry has that uncomfortable moment where he totally relates to Voldy because they both feel like Hogwarts is home. The series tends to be very heavy on the good/evil dichotomy, even when it pretends not to be, and this is a great way to complicate that. Harry and Voldy are supposed to be opposites but in truth they have some real commonalities, which this moment highlights and which will actually help Harry in the end. Yay for things not always being straightforward!
Voldy:
"Greatness inspires envy, envy engenders spite, spite spawns lies"
(443). That crazy snake-man is so right.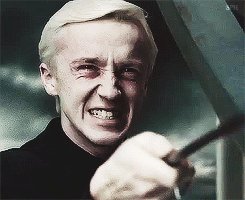 So Myrtle's going on about some boy crying in the bathroom, a boy who is lonely and bullied. And Harry, being Harry, is all a boy? CRYING? What is this gender role violation MADNESS? Then later we see Draco in the very act of shame-crying and instead of being like, oh, what's going on with him?, Harry unintentionally uses dark magic on him and totally forgets the incident. I think that the movie actually did this better and made us really empathize for Draco, but either way, it's nice to see this other side of him, which helps us understand his false bravado later. In the end, even Harry realizes the pressure that Draco is under and pities him for it.
Speaking of Harry's horrifying assault on Draco (Hermione's right, you shouldn't just use unknown spells all willy-nilly even in self-defense), I have to say that I think Snape's punishment was totally justified. By missing the Quidditch game, Harry loses out on something he really wanted and feels the consequences for his actions. In fact, I think that a harsher punishment is called for, up to and including expulsion (I know that they couldn't actually expel Harry because he needs to be trained to kill Voldy but ACTUALLY, that might be more interesting and convincing than him just dropping out). My problem with it is that the punishment seems to be motivated more by Snape's desire to have Gryffindor lose than to punish Harry for attacking Draco. Not the most admirable of intentions.
Felix Felicis! How does it work? At first, it seems like it just gives you confidence,
an exhilarating sense of infinite opportunity
(477), which is pretty similar to how fake-giving it to Ron worked. That would actually be pretty cool, if it just gave the drinker the confidence to accomplish what was already within his ability, but then it turns out to be weirdly prophetic and I don't get it. It's just too convenient. Later on, the Terrible Three look up the recipe and find that it takes 6 months to brew, in which case, how did Slughorn possibly have it ready in time for the first class? He only accepted the job a month before! PLOT HOLE.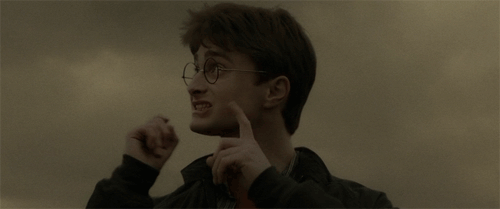 So, Dumbly tells Harry about the Horcruxes, all the while pretending that Harry figured it out on his own, and explains that
"the seventh piece of soul will be the last that anybody wishing to kill Voldemort must attack - the piece that lives in his body"
(503). I feel like this is terribly illogical. If you go around destroying the other Horcruxes, you still have the living Voldy to contend with. If you kill this Voldy first, than there will be far less obstacles between you and the Horcruxes, and as long as you destroy them, the living bit of soul remaining from now-dead Voldy would be destroyed too. BUT THAT WOULD BE TOO EASY. Also, does anybody else feel like JKR is just repurposing the diary? Harry's right - it's not an object that Voldy would value and Dumbly's explanation doesn't convince me otherwise. I mean, it's a useful repurposing, but not the most believable.
Before we get to the end, can we just take a minute to observe that Trelawney has been making accurate predictions for this entire novel? Her tarot cards keep coming up with calamity, a lightning-struck tower, and
"a dark young man, possibly troubled, one who disliked the questioner"
(195). Lol, even she can't believe that one. But she keeps getting ignored, even though we all know that she's made at least two full-fledged real predictions to date. Maybe if she wasn't so narcissistic about her abilities people would take her more seriously.
So! The adventure! This is my favorite adventure in the series for reasons that
I've blogged about before
, so I won't repeat them here. I do want to add, however, that I love how Dumbly treats the trip to the cave as a learning experience for Harry, even though they're doing real stuff and he could easily be all, get out of the way, little boy, and let the real man work. But no, Dumbledore is ever the teacher, and I respect that. I don't respect how he knowingly let Draco go on attacking his classmates, but that's another matter. I also don't respect how he won't tell Harry the truth about Snape, even though Harry now knows how involved Snape was in his own orphanhood. Dumbly may have made a promise to Snape, but this is Harry's life.
Can we just take a minute to talk about Draco's genius plan? He single-handedly finds the only hole in Hogwarts' protection by paying attention to details that no one else notices and fixes the cabinet by himself to make it work. He gets himself somebody outside of the school to help him in any way he needs. He panics a few times and makes some dumb mistakes, but in general this shows an incredibly high level of intellect and skill, even if he is using it for the Dark Arts (but really, the kid doesn't have a choice). I think we can finally understand why he's so resentful of all of Hermione's attention - he's incredibly talented and no one ever notices, quite possibly including his own parents.
So Dumbledore's dead and that is the poopy. I had a roommate my freshmen year who absolutely insisted that Dumbly's plea of "
Severus...please..."
(595) was actually a supplication for Snape to kill him and I was all GIRL, you crazy! And, well, yeah. That's all I'll say.
Next week, we're reading
The Tales of Beedle the Bard
and honestly, I have no idea if I'll be able to because I'm going to be SO BUSY with finals (I have three papers totalling a minimum of 33 pages to write - eek!) and I don't have it on audiobook. But I shall try.