So, last week I provoked a surprising outcry over my suggestion that maybe Harry could have been less attention-seeking in his efforts to prove that he's not seeking attention, maybe by deflecting some attention. To make up for it (but not take a word of it back) can I say that I was impressed by how quickly he forgave Ron? Because that was pretty impressive for a 14-year old who feels put upon. Am I forgiven? Just a little bit? No? Ah well... Happy Harry Potter Day, y'all.
Also, sorry if the formatting is crazy. Blogger's being weird and I have to class so...yeah.
This is the kind of thing that I love about this series:
"Oh, don't mind me!" the Fat Lady called irritably after them. "Don't apologize for bothering me! I'll just hang here, wide open, until you get back, shall I?"
"Yeah, thanks!" Ron shouted over his shoulder.
(373)
It's just a little aside and JKR doesn't make a big deal about it or anything, but these little notes of whimsy and ridiculousness are why this series makes me so happy. Oh, and also this:
"Professor Dumbledore offered Dobby ten galleons a week, and weekends off," said Dobby, suddenly giving a little shiver, as though the prospect of so much leisure and riches were frightening, "but Dobby beat him down, miss.... Dobby likes freedom, miss, but he isn't want too much, miss, he likes work better."
(379)
Oh, Dobby, you weird little negotiator.
But then there are moments like this, when the boys are all acting like - ugh - adolescent males:
"So ... you lot got dates for the ball yet?"
"Nope," said Ron.
"Well, you'd better hurry up, mate, or all the good ones will be gone." (393-394)
All the good whats, pray tell?
And then Ron's all "As if!" to Hermione having a date for the ball who is not him and I want to punch him. But kudos to Ginny for sticking to her committment to Neville and not ditching him just because a better choice (and he long-time) crush, condescended to consider her. You go girl! Also UGH, school dances. Worst. Things. EVER.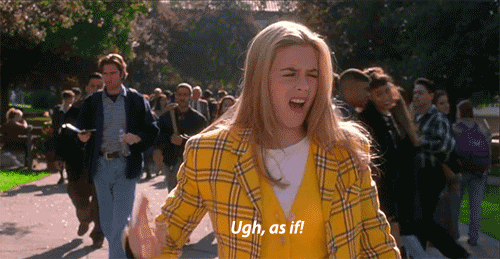 So Hermione goes to the ball with Krum and everyone's like whaaaa, since when is she pretty and what an unreasonable match even though Krum himself is so ugly. And then we remember that Hermione's earlier thoughts about Krum were, "He looks really grumpy" (83) and "He's not even good-looking!" (317) and isn't she awesome for not just choosing guys for their looks? Go Hermione. This section's all about the girls.
**EDITED to remove evidence of my idiocy in questioning JKR's math skills. Which isn't to say that I don't still question her math skills.**
So the Terrible Three are being all nosy as usual and thinking they know better than adults, and they're all like,
What could Bagman
possibly
be doing in Hogsmeade if it has
nothing
to do with Harry? And I'm all, it's a wizarding
village
so maybe he lives there or has friends there or just likes to drink at Madame Rosmerta's bar, and also he's a grown man and can do what he likes! Yeah, I know that he has other motives and that generally this is just a red herring but man those kids think a lot of themselves! But then Rita Skeeter comes along and she's all, Similar suspicions! And Harry shrieks, "Trying to ruin someone else's life?" (450). Because the Hogshead only has room for one nosy jerk at a time, apparently.
The Second Task - I suppose we should discuss that, yes? I only have 3 brief points:
1) On page 179, the lake is described as "fathoms-deep," which seems a bit much for a one-hour swim without lifeguards, but according to Wikipedia, a fathom is only like 2 yards, so fathoms could mean 2 and therefore 4 yards, which would be rather disappointing but probably isn't what JKR meant. "Fathoms-deep" usually means OMG CRUSHING WATER WEIGHT and, yeah... what about all those safety precautions?
2) In the bathroom with Myrtle, she informs Harry that the Hogwarts toilets flush into the lake. Enough said.
3) Okay, Harry's determination to save everyone is pretty awesome, and also naive and adorable, and I approve. Also, I can't help but judge Cedric and Krum for being all whatevs, the rest of you can all
die
.
Aww, they love each other!
Sirius returns! And he's all, Stop fussing, Harry, I'm "Fulfilling my duty as godfather" (522) and I'm pretty sure all of us cheered in unison. Then, being all wise and grown-up, he tells the kids, "
If you want to know what a man's like, take a good hard look at how he treats his inferiors, not his equals
" (525), which is an
excellent
quote to hang on the wall in a class-based society, but will be sadly applied to him in the future.
Finally, foreshadowing:
1) We learn from Hagrid that Dumbledore took care of him and helped him out after his dad died (455). While this is of course reasonable, based on his relationship with Harry, it's pretty safe to say that Dumbly has a special interest in orphans... maybe some other orphans too??
2) We learn that Mr. Crouch has a thirst for power that answers to no man, but that that doesn't make him a Dark wizard. Not only is JKR complicating the images of good and evil, but this is an issue that will specifically come up in the next book and throughout the rest of the series.
(cough, Umbridge, cough)
What makes a person evil? Pursuit of power? Mere compliance?