Welcome to the last post on
Goblet of Fire
(one day late)! The fact that I actually managed to read this was impressive, considering how stressful school and life have been, but it's like a forced relaxation exercise and totally works. Next week we'll be starting
Order of the Phoenix
(eugh, the worst of the Harry Potters) but I'll be out of town so I have no idea how that'll work buuuut I'll figure it out. Onwards!
The first time I ever read the scene in the graveyard, I did't really realize Cedric was dead at first. I cried, but it was only after I asked myself why I was crying that I realized what had happened. It was very odd - I understood it emotionally before I understood it cognitively. This is a turning point in the book - when we see that fear and sadness are not only in the past - when Rowling become brave enough to kill. I LOVE Harry's concern about Diggory's parents, when his first question of Dumbly is where they are - it's very sad and very real. Whenever I hear about a child or adolescent dying, I always think about their parents too. It's these kind of moments that make me love Harry, not his supposed heroism and extraordinariness.
Goblet of Fire
is the book in which Rowling really shows her incredible plotting skills. It's amazing how all of the weird happenings and off-hand details from the book all get explained so neatly. Even Ludo Bagman, who was of course a red herring, makes sense in the end. This is 700+ pages of tightly plotted mystery, a feat that not a lot of authors can pull off.
Of course, it doesn't make any sense.
Why exactly did Harry have to be entered into the Triwizard Tournament in order to be sent to Voldy? Wasn't that a ridiculously big risk? No matter what Barty/Moody did, there was always a high chance that Harry would burn or drown before reaching the third task and thus be of zero use to Voldy. If Voldy's regeneration plan wasn't ready when Barty first became Moody, couldn't he have just bided his time and then handed Harry a portkey book or something? That would also have kept anyone from knowing about it for longer and thus helped ensure success. Of course, that wouldn't be nearly as exciting, just reasonable.
Also, as much as I LOVE the Barty/Moody twist, which explains so much, I can't help but wonder whether Barty really would have been able to pull it off, after a stint with the dementors followed by what, ten years (not sure about this number) of being under the Imperius Curse. I mean, as crazy as he is, he's obviously very sane to pull this off and convince everybody, including the great and wonderful Dumbly that he's actually Moody for so long. I'm thinking that I might not be so sane after going through his experiences.
This brings me to another issue with this whole thing: what happened to Voldy's body when he "died"? In
Sorcerer's Stone
, we heard Hagrid doubt whether Voldy "had enough human left in him to die," but I feel like that matter should have been cleared up by the presence of a body. If he left no body, why would anyone think he was dead? But if he left his body, then how did he carry away his wand? Because in the graveyard, he clearly has his original wand. But he has stated that he was "less than spirit" or some such thing (I don't feel like finding the quote, sorry). Can such a being tote a wand around? Also, Cedric should
not
have come out of his wand - he was killed by Wormtail and I very much doubt that Voldy is in the practice of loaning his wand to inept servants. Also, James should not have come out before Lily, since she died more recently (apparently this was changed in later editions?). Ahoy, editors!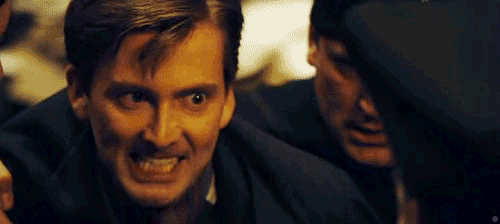 For a brief update on Rowling's math skills: Mrs. Weasley "reminisced at length about the gamekeeper before Hagrid, a man called Ogg." Except that we know Hagrid attended Hogwarts 50 years ago, when the Chamber of Secrets was open, and upon expulsion became gamekeeper, so Mrs. Weasley, who I highly doubt is older that 50, cannot possibly remember Ogg. MATH LOGIC. Speaking of Mrs. Weasley: "I must say, it makes a lovely change, not having to cook." This is one of the only times in the series we see her eat a meal prepared by somebody else - POOR LADY. Somebody take this woman out to dinner.
Finally, the moment of the whole series that I have never understood and is never resolved and has always driven me crazy. In Dumbly's office, when Harry's explaining what happened:
'He could touch me without hurting himself, he touched my face.' For a moment, Harry thought he saw a gleam of something like triumph in Dumbledore's eyes.
?!?!?!?!?!?!?!??!?!?!?!?! Sure, it could be a misunderstanding...but...no...
Aaaand, this quote:
Decent people are so easy to manipulate
(676). That sucks. And is probably true.