Soooo, I've been a rather crappy readalonger for the past couple of weeks in terms of commenting, thanks to midterms and spring break travels and whatnot, but I resolve to be better! Well, as much as
Order of the Phoenix
will allow, because this shiznit is
boooring
. SO MUCH unnecessary detail. SO MANY extra words. And what is with the daily recaps?! But anyway. Here's some Harry Potter-ish news for you: Richard Griffith, the actor who played Uncle Vernon,
died yesterday
. All the sads for the man who did a fantastic job of portraying one of the biggest douches EVER.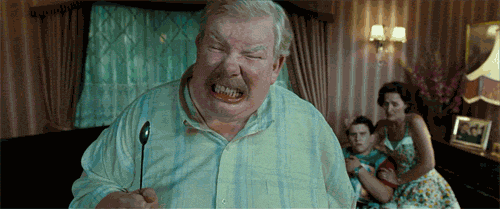 I feel like this picture is disrespectful but this is how we know and love him, right? Or at least how I know and love him. Happy Harry Potter Day.
So, this week Harry gets about a trillion detentions with Dolores Umbridge and
completely fails
to learn a lesson, the lesson being "shut your mouth and save your hand." Speaking of hands,
how
does Harry not tell anyone that he's being forced to torture himself? (Although, to be fair, this is probably a lot more mild than being dragged into the Forbidden Forest in the middle of the night with no almost no magical training whatsoever, like in
Sorcerous Stone
[snort, Neville]). Never mind Ron and Hermione, who he briefly decides confiding in, but what about McGonagall? These kids need to learn to trust adults more. Also, those detentions are like
seven hours
long. How is that okay? What about homework and sleep and the fact that this is a
school
, not a
prison?!
Skipping to the end of this week's section, when McGonagall tries to give Harry more detentions for beating the shit out of Malfoy and Umbridge intervenes, I have to say that I kind of actually agree with Umbridge. While a lifetime ban is a little excessive, it's far more appropriate than some detentions, which have already been proven to be ineffectual and are just another example of athletes getting away with stuff. Don't get me wrong, I think that Malfoy should also be punished for insulting opponents' families and, in general, poor sportsmanships, but that doesn't make what Harry and George did okay. The punishment should fit the crime and the crime was associated with Quidditch sooo...maybe like a 3-month ban would be better, but detentions are totally insufficient.
My post-it regarding Percy's letter to Ron: "DOUCHE DOUCHE DOUCHE." Enough said.
Sirius: "the world isn't split into good people and Death Eaters." How true, especially when you look at Sirius himself, who can be very kind and good but also horrible to Kreacher. Of course, we don't get to see that complexity with the Terrible Three who are firmly on the side of good even while being obnoxious teenagers. Speaking of Sirius: "'You're less like your father than I thought,' he said finally, a definite coolness in his voice." NOT COOL. Let's just be mean to orphans for not being as awesome as their dead fathers, because that's fun right? Poor sad Harry. Also speaking of Sirius, because apparently it's all about Sirius this week, the scene where he suggests that the DA meet in the secret passageway behind the mirror on the fourth floor and they're all, "nope, doesn't work"? I think this is a sign that Sirius's time has passed and he's become obsolete. It kinds of sets us up for the ending... :[
As for Dumbledore's Army, I like it. One part of me is like, "silly kids thinking they know things," and another is like, "YOU GO KIDS, you take what's yours and you show that lady." Because it's easy to talk the talk but they actually walk the walk and even though their chances of success are not that high, at least they're trying, which is more than most people can say. It's like the high school version of the Order. Oh, and the scene where Hermione is like, "we out to elect a leader" and Cho's all "DUH, Harry's leader"? They may all agree with this, but they are all wrong because Hermione is obviously the leader. She thought of everything, she organized it, she did the coin thing. Harry just shows up and tells them what to do, but Hermione is obviously the brains behind this operation. Once again, she does all the work and gets none of the credit. **ANGRY FACE**
Does anyone else feel bad for the poor sad giants? The wizards' fear of otherness has forced them into hiding (much like Muggles' fear of otherness forced wizards into hiding) and then they couldn't even overcome their own internal prejudices enough to preserve their own population (see the Death Eaters). It's sad how these patterns just repeat themselves over and over, even though the players and their roles may change.
Onwards and upwards, my friends.