It's Friday! That means it's Harry Potter Day! This week we're talking about the first task in the Tri-Wizard Tournament! It was a relatively short read this week, even though I only picked up the book while eating breakfast and sometimes before bed, but I managed to keep myself from reading ahead. Progress, right?
Hermione starts SPEW, AKA "Stop the Outrageous Abuse of Our Fellow Magical Creatures and Campaign for a Change in their Legal Status" (224) because she's nothing if not obvious. But seriously, go her! Instead of just telling off all the Weasleys about house elves, she's actually doing something, which is unusual enough for adults, never mind kids. Of course, I want to smack everybody else ever for being all "But they
like
being enslaved." I'm sure American plantation owners pre-1865 said that too. Especially Harry! For such a "great wizard," he doesn't give a crap, despite having been the one to recognize Dobby's outrageous abuse and set him free. And you know what it is? Laziness. And also probably avoiding negative feelings because it's all about him. Jerk.
Meanwhile, the creepiest man ever is teaching the kids admittedly illegal curses and they're all like "Cool" except, predictably, for Hermione, who's all, "Is this a good idea?" Right there with ya, girl. And Moody puts the Imperius curse on Harry, who predictably can fight it off without even trying. Snore.
Then some other people get there! The Beauxbatons students arrive in a flying carriage the size of a house complete with massive horses that the Hogwartians can see from a distance, begging the question of how the Muggles don't see it. If so many could spot the flying car, you'd think the whole county would be staring goggle-eyed at a flying house. I much prefer the Durmstrang students mode of travel: an old pirate ship that must magically move between bodies of water, so that they appear from the depths of the lake. Much more impressive. And then, to throw a little bit of xenophobia into the mix,
everyone
Hermione despises the French students because, well, they're French and aren't in raptures over Hogwarts, but the Durmstrangs students are cool because they're all "Is this gold? Is that fire? Like, for being warm?" Because having an abusive headmaster is soooo much more acceptable than forgetting to wear a cloak.
That's right, Hermione.
The school champions are selected! And all the Gryffindors are all "ugh, that pretty boy, Cedric" and you know what? It's totally unjustified. Just because he beat them at Quidditch once and happens to be attractive (it's not like he's always in front of a mirror or playing with his hair like
some
past student we have yet to see) doesn't make this okay! You know what else is messed up? How the Goblet of Fire is a binding magical contract and after only having 24 hours to decide to put your name in, students are forced to participate or - what? Die? Is that the consequence of wizards and witches changing their mind? And of other, evil wizards making up your mind for you? Because that is
messed up
. The wizarding world is so freaking dangerous! We see shortly thereafter that the champions need to battle a dragon, and that it takes a dozen wizards aiming Stunning spells at exactly the same time to subdue a dragon. But don't worry, because "no champion will find himself or herself in mortal danger" (215). Because stealing an egg from an angry, fire-breathing dragon with impenetrable skin isn't perilous at all. Also, why does anybody still tell Hagrid secrets?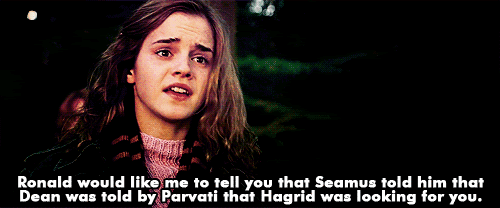 So Harry's chosen, and Ron's an ass, and Harry's all
wtf
and Hermione says, "it's always you who gets all the attention, you know it is" and I'm like "YAY for recognizing this fact!" Of course, if Harry didn't actually want all this attention like he claims, he could always have
refused
to go in a closet with Rita Skeeter and have his picture taken and maybe written to the Daily Prophet to tell them to print a correction about Cedric being in the tournament. But no, he just goes along with all of it, sighing dramatically throughout (okay, I added that last part). I never heard Barty Crouch make a stipulation about the champions being bound to pose for a camera but hey, maybe I missed something (I didn't).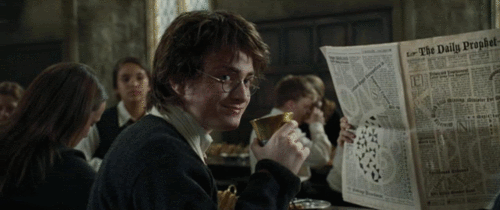 Put that in the Daily Prophet.
Oh, we can't forget Harry and Malfoy cursing each other and I ask you, where did they learn curses to make somebody's teeth grow excessively and to make boils spring up? Is this why the kids liked Lupin's classes so much? Or is it just the wizarding equivalent of kids in language classes looking up all the bad words (curses if you will)? Because I really don't think that jinxes like these should really be a part of their magical educations.
1 fussy aside:
"'Can your eye - I mean, can you - ?'
'Yeah, it can see through Invisibility Cloaks,' Moody said quietly" (322).
For those of you who have read
Deathly Hallows
... you know what I'm saying. For the rest of you, take notes.