Soooo, I've been a rather crappy readalonger for the past couple of weeks in terms of commenting, thanks to midterms and spring break travels and whatnot, but I resolve to be better!  Well, as much as
Order of the Phoenix
 will allow, because this shiznit is
boooring
.  SO MUCH unnecessary detail.  SO MANY extra words.  And what is with the daily recaps?!  But anyway.  Here's some Harry Potter-ish news for you: Richard Griffith, the actor who played Uncle Vernon,
died yesterday
.  All the sads for the man who did a fantastic job of portraying one of the biggest douches EVER.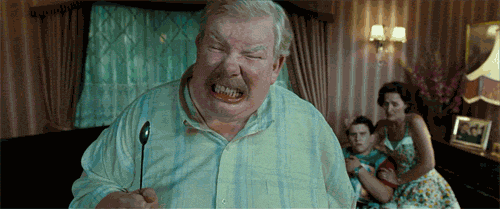 I feel like this picture is disrespectful but this is how we know and love him, right?  Or at least how I know and love him.  Happy Harry Potter Day.