Ladies, I have a confession to make on this, the 6th weekly Harry Potter Day. I finished Prisoner of Azkaban a week ago. I know, I'm such a rebel. But I drive so much and the third book is so good and audiobooks just don't respect readalong schedules. Such unruly little rule-breakers (Huh. Does the word
unruly
come from the word
rule
? Weird...). And not only did I read the book ahead of time, but I had a really tough time identifying parts to mock mercilessly because this book is SO MUCH BETTER than the first two that all I did was swoon and not take mental notes of ridiculousness. Of course, there is a
bit
of ridiculousness, which I was reminded of going through the table of contents in my hard copy. But, to start off on the right foot...
Here's part of why I think that
Prisoner of Azkaban
is superior to
Sorcerer's Stone
and
Chamber of Secrets
: Harry gets to be a kid. At Privet Drive, he gets angry and loses control instead of being an angel in the face of horrific abuse.

At school, he gets to go to class and hang out with his friends and play sports without needing to be a detective and save the wizarding world from itself. He gets to behave like a kid and do kid stuff and generally just grow up. Yes, there are whispers of darkness from his past, an issue he will have to resolve but to be honest, we all have that (just hopefully not as dark and awful as it is for Harry). And while that lurks around and certainly affects him, his responses are reasonable and he puts his trust in the grown-ups who are there to protect him instead of acting the hero in an unbelievable way. And he doesn't seek out danger, like we've come to expect. He's just a kid and so much more relatable for it.
To the important stuff, like Aunt Marge! Oh my god, what an awful woman and so fantastic. I love her character development - it's shallow but sufficient, and so Dursley-ish, with her yappy little dogs who bite Harry and her uncanny resemblance to Uncle Vernon. And then Harry blows her up and she floats away and has to be
punctured
. LOL. I really wanted a gif of that scene in the movie where Harry's walking down the street afterwards and she's floating away in the distance because it's little things like that that make the 3rd movie one of the best. But we'll have to accept this in its place:
Also, AUNT MARGE IS TRUNCHBULL. How apropos.
So Harry blows up his Aunt and goes to the Leaky Cauldron because obviously the gate to wizardom is the best place to hide from wizards and suddenly Tom the innkeeper is his temporary foster parent, proving yet again that the wizarding world is in need of social worker. A bar is not the best home for a child, even if it is only for a few weeks. And here is where I would put a gif of the self-sweeping broom sweeping dust under the rug if I could find ANYTHING EVER. I should really just learn to make my own gifs (not gonna happen).
So Harry gets back to school and has his best Defense Against the Dark Arts class ever, in which he finds out that EVERY SINGLE ONE of his classmates have ridiculous fear. How is he the only person who is mortally afraid of dementors? And why are the others ALL afraid of silly things like spiders and disembodied hands?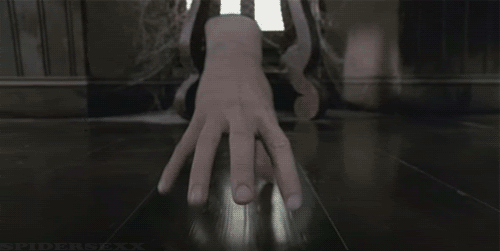 Okay, yeah, that's pretty creepy.
And then Harry loses his first Quidditch game, which I think is excellent for him and also contributes to the whole "real kid" theme running through this book, because
sometimes you lose
and it's good for him to know that. Of course, later that's just going to be fodder for his true awesomeness but shh. It's good that it happened. He even loses one of his most prized posessions, because sometimes the wizarding world just sucks and really cool trees are not your friend. Of course, somebody promptly sends him the best broom of all time, because it's Harry Potter and he gets the best of everything ever in an ongoing effort to inappropriately compensate for his shitty upbringing (seriously, where are the social workers?!), BUT Hermione and McGonagall are all
we don't think so
and Harry doesn't get what he wants for five minutes. Question: why didn't McGonagall just write to Quality Quidditch Supplies and be all like
hey did you send my student this broom and also did you let any dark wizards tamper with it first?
Because I feel like that would really have saved her and Flitwick some effort.
But it's not all fun and games. Sirius Black is on the loose, damaging ancient paintings (lol, clearly evidence that he is a soulless murderer) because he's BAD, okay? And also there are dementors around, just waiting to suck your soul out of your mouth because EUGH. But I think these topics are better saved for next week, as well as the illustrious Professor Trelawney, who at this point is still just an amusing annoyance who sees dogs in teacups.
To sum up, this book is great and I love it and if you say anything mean about it, it must be beacuse
Just kidding, I love you all for letting me indulge my HP mania.
Until next week, when all of you slackers catch up and I can start reading Harry Potter again. :]