Goblet of Fire
was the first book of the series that I had to wait for. I pre-ordered it at either a Waldenbooks or a B. Dalton (remember those stores?). Then I realized that the book would be released while I was at camp and BEGGED my mom to pick it up before she came to visit me, which she refused to do since she was convinced that I would ruin it. So I was very grumpy and spent my last week or two at camp begging other people's copies and waking up early so that I could sneak them out of the cabin. When I got home and finally got my book, I parked myself in a recliner, started on page 1, and read all 734 pages in one day. It was the first book of the series that made me cry. Happy Harry Potter Day, ya'll.
SO. I decided to read the actual book instead of listening to the audiobook and have marked SO MANY THINGS that it's going to be an effort not to write the longest post ever. I'll do my best. We open in the little, removed town of Little Hangleton, which we're seeing for the first but not the last time, following an old Muggle man named Frank Bryce, who was once accused of murdering the Riddles. Hmm, that name sounds familiar. I LOVE going into someone else's perspective instead of all Harry and wish that JK would do this more often. I also love how many clues JK drops in this one chapter, all of which the average reader (AKA one who hasn't read the series a hundred times) would promptly forget. The mentions of Bertha Jorkins, a second free "faithful" servant, and the fact that Harry Potter is needed for something are all like little gifts to the avid re-reader. Thank you, JK.
Then the Weasley's show up and Harry observes that "Mr. Weasley thought Dudley was quite as mad as the Dursleys thought he was, except that Mr. Weasley felt sympathy rather than fear" (46). Of course, Mr. Weasley did just blast their living room apart without their permission in a rather threatening and inconsiderate display of magic, so can you really blame them? Also, don't you find Mr. Weasley to be rather condescending of Muggles? I love him and all but he's always like "oh, those cute little Muggles with their cute little Muggle things." As a Muggle, I have to reiterate my comment from a few posts ago: at least we don't sit around in drafty castles when there's central heating to be had!
And then they're off to the Quidditch World Cup! What fun! Harry meets Amos Diggory, who's all, "Bwahaha, my son beat YOU, guess you're not so great, eh?" and I'm all "What a douche and I love it!" Because Harry's really pretty mediocre. And then they get to the field and the overplayed and underused character of Ludo Bagman shows up and the twins make the MOST RIDICULOUS BET EVER AND THEY WIN. Seriously, why would they guess that Ireland would win but Krum would get the Snitch unless they know something we don't?! And how do they know? Illicit Time-Turners abound in this book. Also, what was Krum thinking? Why wouldn't he just block Lynch and retain the possibility of a Bulgaria win?? Why does one player get to decide this for the whole team? I don't understand!!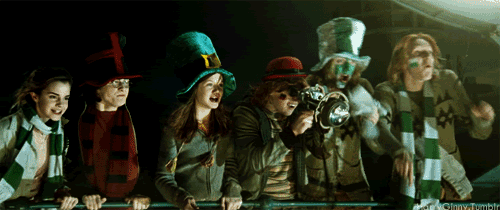 Then a bunch of old Death Eaters show up and can I just say that they are portrayed fantastically in the movie? They remind me of Klansmen, except not in white, and give me the shivers. Eugh. This scene also indicates something that will be important later on - the wizarding population have no organized police force or army. Percy, Mr. Cauldron Bottoms himself, needs to go fight the Death Eaters, for crying out loud. People need to protect themselves and their loved ones, and they are the only people on the line between order and chaos. This is disturbing but also gives insight into their lives and Harry's choice of vigilante justice later in the series. It's a wizard-blast-wizard world and the fact that they ever maintain any semblance of order is actually kind of impressive.



Then Harry returns to Hogwarts! And we hear the Sorting Hat sing a new song! And it is in alternating lines of really good iambic tetrameter and iambic trimeter and I am like whoa. I only realized this because I sang the song out loud to myself (because I'm cool like that) and the rhythm broke through really clearly. Kudos to your skills in verse, JK. After that, everyone eats, and Hermione's all, "what? slaves? HUNGER STRIKE!" And Ron says, "I'm an asshole Treacle tart Hermione!... Spotted dick, look! Chocolate gateau!" As a vegetarian who people often think can be tempted into eating meat, OMG is that annoying and obnoxious. Also, "spotted dick." Snort. Says the American. Then Dumbledore's like "We're going to have this super-fun tournament and we promise that we'll do our best to keep people from dying this time, kay?" And I'm right there with Hermione when she's all, "Is this really a good idea, guys?" Because Hogwarts is the scariest place ever.
Two fussy little asides:
1) Harry was born in July of 1980, right? So the beginning of this book, when he turns 14, should take place in the summer of 1994, right? So when Harry talks about Dudley's PlayStation, it's obvious that Dudley is keeping secret the fact that he's magical and has a Time-Turner of his own, because the PlayStation was first released in Japan in December 1994 and so there's no other way for him to be playing Mega-Mutilation Part Three (3! Not even part 1!).
2) "His [Dean's] old poster of the West Ham
football
team was pinned right next to it. 'Mental,' Ron sighed, shaking his head at the completely stationary
soccer
players" (191, emphasis mine). Enough said.