Sorcerer's Stone
the other day and have already made a sizeable dent in
Chamber of Secrets
, so I can already tell that I'm going to have to be careful to not got too far ahead of myself in this readalong.
Just a head's up: I love this book and this series, but the second half of
Sorcerer's Stone
is just SO FULL of things to mock that that's pretty much all I'll be doing this post. I still love it. Deal.
I have so many things to poke holes in! But I'm going to try and contain myself to
three
a few
main points so that it doesn't get to be too much. Firstly: Snape's piercing gaze. Foreshadowing to the eventual revelation of his skill in Occlumency or one of those little details that Rowling repurposes later on? I tend to think the latter. I also wouldn't rule out the option that Snape isn't so much reading Harry's mind ("the mind is not a book, to be opened at will") as seeing... well, you know. We'll come back to this far later in the series.
And then there's the Quidditch. Ah, Quidditch. At first glance, it seems fun and whimsical, like wizarding money (which
Sarah at Sarah Says Read
suggested may have ridiculous exchanges because it's based on WEIGHT, which I think is genius because wizards are old-fashioned and there money IS made out of actual precious metals - but anyway) but then you think about it and it all seems ridiculous. So, not only is the length of the game based not on time but on one player performing a specific action, but that one action is valued so highly that it determines the outcome of almost every game (almost, I said almost!). As a result, after weeks of practice and anticipation and the whole school turning out, Harry's second game ends in under five minutes and the other team does not have a chance. Even if they had scored 14 times and Gryffindor hadn't scored at all, Gryffindor would have won. I believe that the scoring is cumulative over the season, which works out that issue a bit, but it's still really boring and unfairly balanced. Also, I would argue that it's more of a game than a sport, since it doesn't have much athleticism. The brooms do most of the work.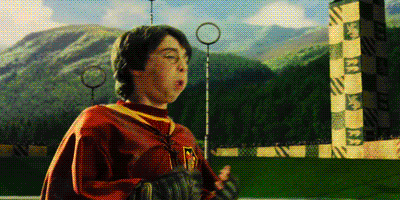 game over
Moving on to the meat of this section: the sorcerer's stone, and it's so-called "protection." Nevermind the fact that two 11-year old wizards and one witch were able to break through the "defenses"; similarly intelligent Muggles could have done so as well. There is nothing inherently magical about the protection except in it's construction. Harry et al. play music, light a fire, board magical brooms (there is no indication that they actually require magic, much less skill to fly them), play chess, solve a logic puzzle, and would have had to hit a troll in the head if it hadn't already been done. Finally, Harry
looks into a mirror with goodness in his heart
. Even lowly Muggles could manage that. And also, on a side note: I think Harry learns a total of two spells in this school year -
wingardium leviosa
and
alohomora
, which Hermione teaches him. Where is all the magic in this magic school??
So then, towards the end of the aforementioned "magical" adventure, we have this gem:
"Harry - you're a great wizard, you know."
"I'm not as good as you," said Harry, very embarrassed, as she let go of him.
"Me!" said Hermione. "Books! And cleverness! There are more important things -friendship and bravery and - oh Harry - be careful!"
Face. PALM. I think that this bit of mushiness has made me angry since my very first reading. Yes, Hermione likes books and she is clever. She is also a wonderful friend, who uses those skills to help her friends and is fiercely loyal, following Harry into danger without a moment's hesitation, pretty much proving her bravery and loyalty, and therefore powers of friendship once again. Yeah, I get that she's concerned for Harry's safety but he could at least have said "same to you, you brave friend of mine." But Harry's the hero and Rowling wants to make sure we know it, even though that comes at the cost of undermining one of the best characters in the series. Maybe even The Best. I do not like this part.
My final issue is that Hogwarts is a
terribly dangerous
place. There is NO instruction before children are placed on flying brooms, little to no supervision at most times, and Dumbledore
knowingly
lets Harry face "deadly" obstacles and a dangerous nemesis.
"'Well,' Hermione exploded, 'if he did - I meant to say - that's terrible - you could have been killed.'"
AGREED. Not to mention the fact that Dumbly decides to hide a powerfully magical object that he clearly
knows
someone is after in a
school
while it is in session. I mean, what the heck is he thinking?? And then there's Hagrid, who allows two of his eleven-year old proteges to dispose of his
dragon
dangerous fire beast for him and doesn't even defend them when they get into trouble for it! Then detention takes place in the Forbidden Forest at midnight with completely inadequate protection. "Here, have my cowardly dog and you know how to make red sparks, right?" And Hogwarts just gets more and more dangerous as the series goes on.
But! Neville! So maybe he belongs in Gryffindor after all, despite his suggestions otherwise. Rowling's going to pretty much forget about/make a joke of him for the next few books but here! He is fantastic! He takes on Crabbe and Goyle (okay, maybe that's more dumb than cowardly) and even stands up to the great HP himself! He is not actually successful in any of these endeavors, but he tries! And he is brave! And just wait for the end of the series when I will share with all of you my Alternate Ending!
and he cleans up well too
So yeah, I think this half of the book is kind of weak but I still love it! I like to watch the movie version of
Sorcerer's Stone
when I'm sleepy or lonely because it's familiarity is comforting, but I always turn it off before the "scary parts" at the end because...well...see above.
The Master Post
Sorcerer's Stone, Post the First
My original review